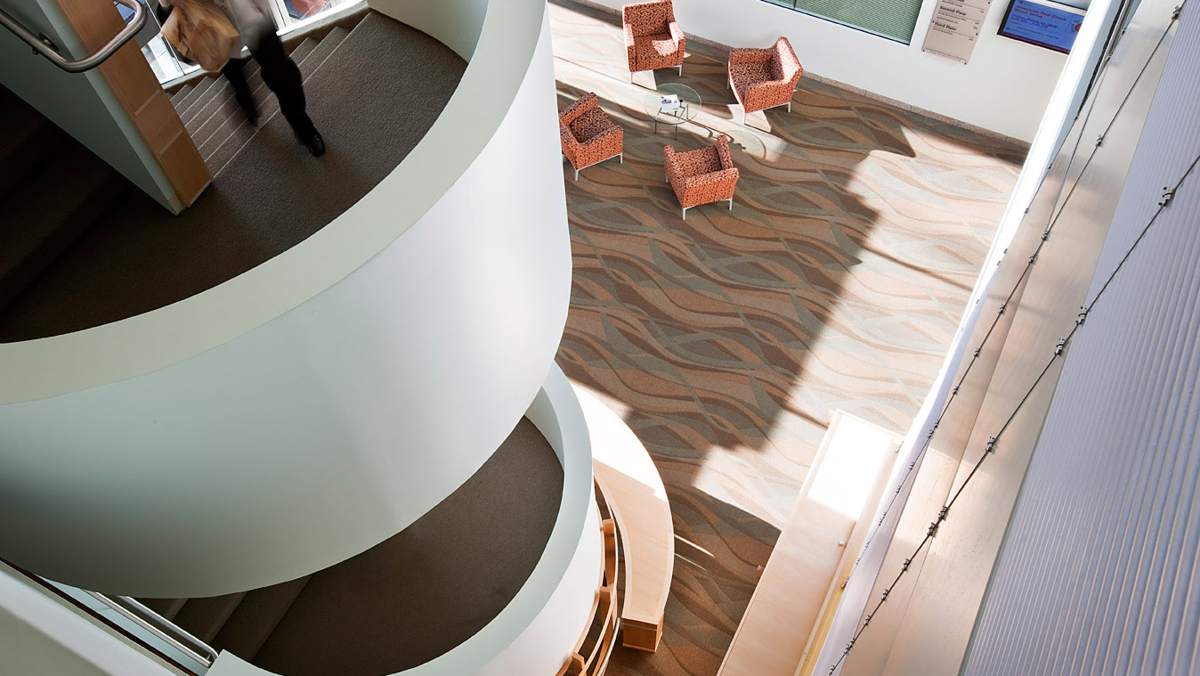 Corporate
Creative work places that are efficient, healthy, and energy conscious
A successful work environment should support the success and culture of an organization. The modern office balances cost effective planning with creative, healthy interiors organized around collaboration, idea creation, and communication. Judicious use of natural light and views, a sustainable materials palette, and the right mix of private and group workspaces helps to create a vibrant, productive work environment.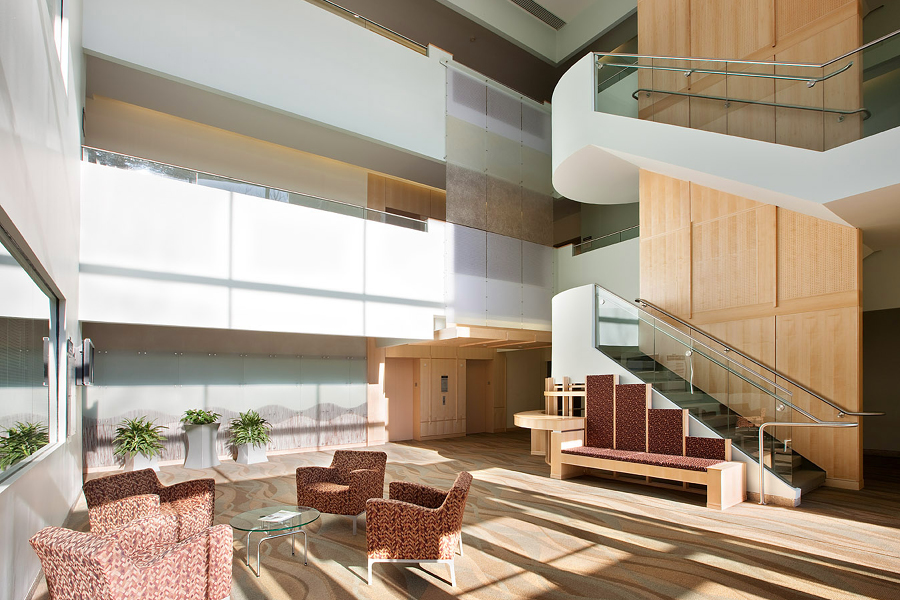 Improvements
Property Improvement and Re-Branding Existing Space
We have done a number of rebranding jobs. In New England, buildnig re-use is a common practice. We work with owners to refresh and modernize their look.
Natural elements were brough in to reflect the water across the way.
At BPG Westborough, several office buildings on a campus were updated. Lobbies were given a clean modern look. A vestibule was added both for energy conservation and to update the new glass wall.
LEARN MORE ▶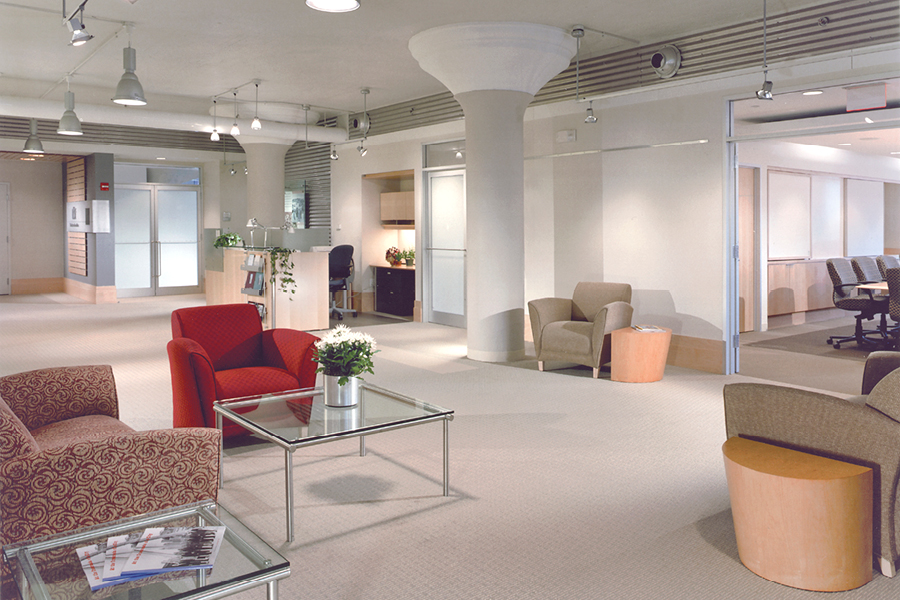 Office Environments
Organizing Energy Conscious Spaces to Promote Collaboration, Engagement, and Efficiency
Our modern work environments are built with the understanding that people are the core of a business, and that building a space that makes them focused and productive will help businesses thrive. To do this, we design for sound levels, natural and artifical light, sightlines, color, and texture, and bring them together with dividing walls and partitions to create balanced helpful spaces.
As the use of new technology has allowed for a reduction of required sqaure footage per worker workers, the proper integration of the technology into a larger range of spaces has become increasingly important. Collaboration and meetings now happen in traditional conference rooms, break out spaces, hoteling offices, employee relaxation areas, and specific function education rooms. We plan these spaces for future flexibility and long-term adaptability whenever possible as we understand that technology frequently changes faster than physical environment.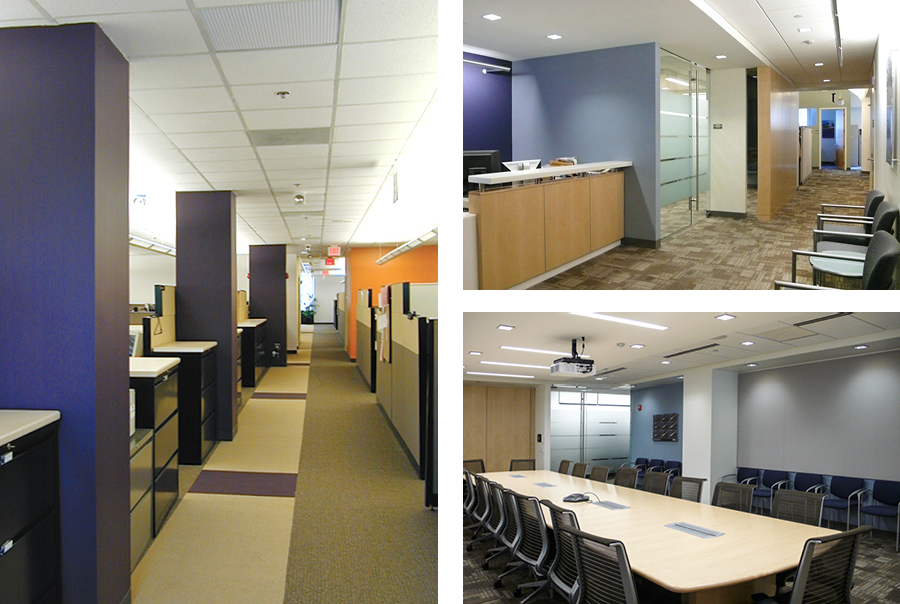 Function Focused Environments
Using finishes to make your project look good and meet your budget
Even if your project's budget doesn't have much room in it beyond achieving the basic relationships and functions necessary for the space, it is still possible to create brand and beauty. We understand how to design for value, by doing things like using a color based design approach, and working with manufactures to get the best choices within your budget. Imagination and purpose can be part of even the simplest solutions.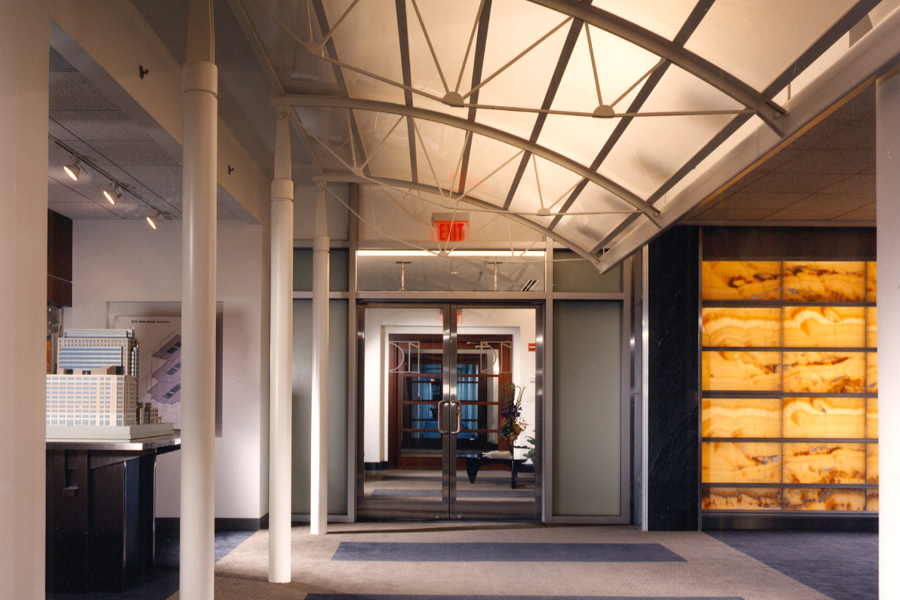 Marketing your brand with your office
Spaces used as sales tools
Environments where both productivity and client relations happen can be created around an image of a company's mission. These are bold spaces that project imagination and atmosphere in public areas, and more emphasis on sales areas, collaboration and meeting spaces. We work with our clients to understand and develop how their identities are received as people move through these spaces, bringing architecture, materials, sound, light, and technology together to tell the necessary story.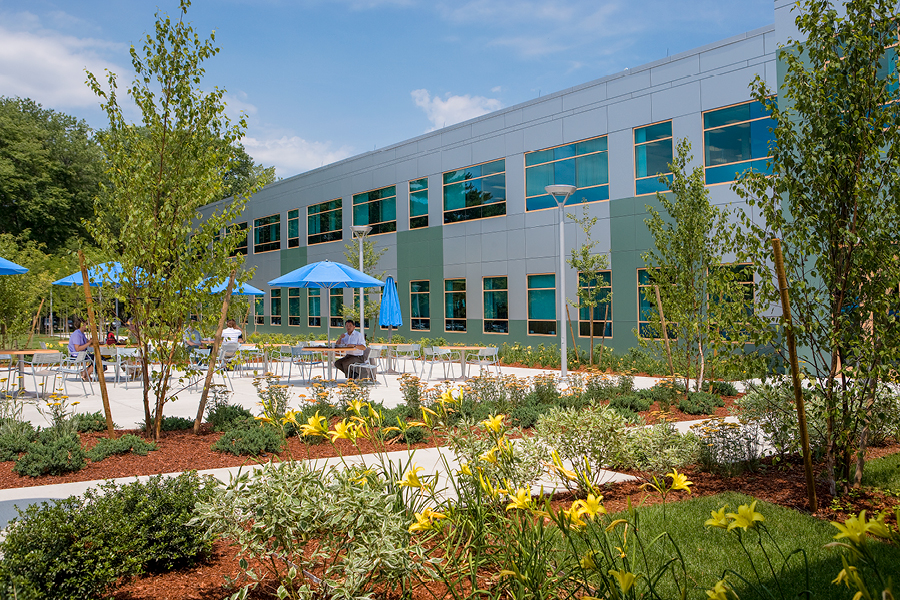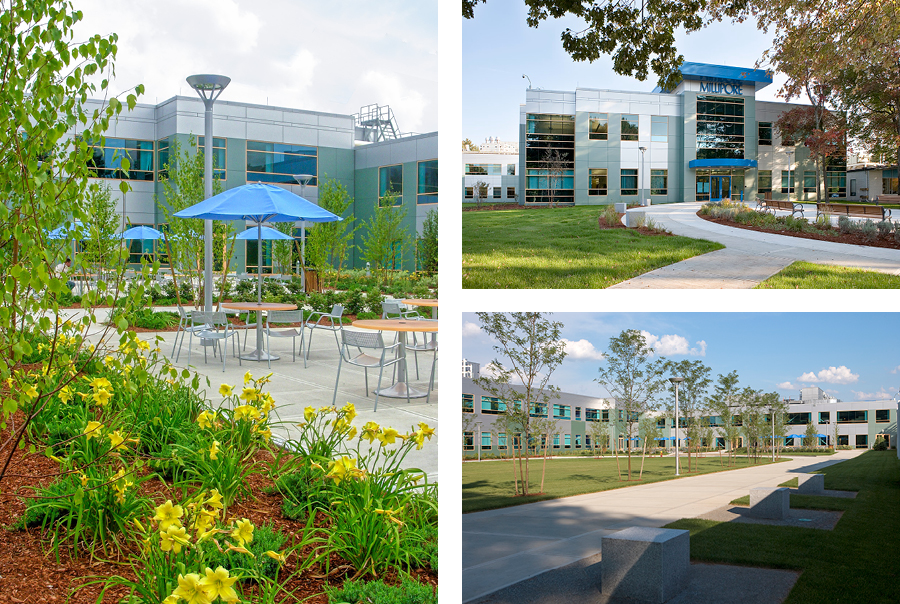 Landscape Architecture
Landscape, Amenities and Connections
The experience of you building starts before you open the entrance door. The site is a garden that you enter into and also look out into throughout the day. An identity is created by using local granite and paving materials, modern stone and metal bench details, and regional plantings that reflect and work with the building facade design.
To engage employees in activity and promote health, the design includes walking paths and connections to bike path for alternate transportation. The paths run around a large field used for hosting corporate functions, and shaded seating areas that offer places for employees to meet outside or sit for lunch.
For responsible cost effective design, plantings are low maintenance and enduring. Wetlands impact mitigation was purposely integrated into the beds in the parking area as a symbol of the companies comitment to filtration systems.