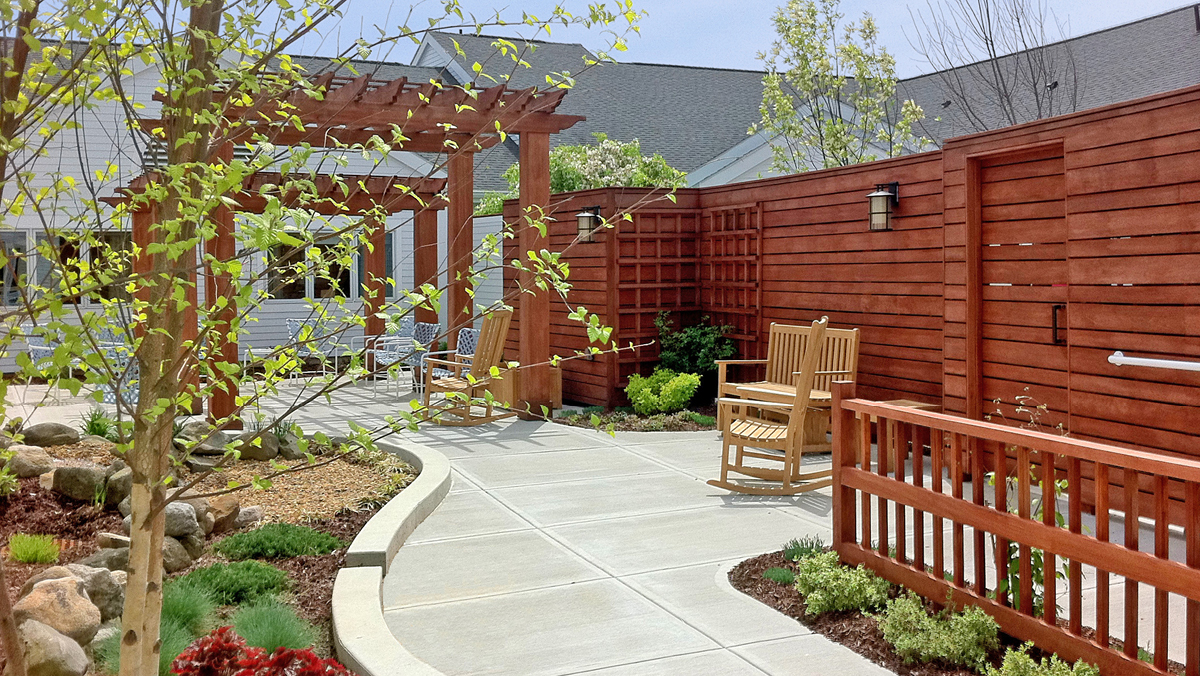 Landscape Design
A building and a landscape should work together
Our approach to landscape design is grounded in holistic observation. We create healing gardens, courtyards, and campuses that bring landscape and building together. Our mission is to design with purpose, solve spatial problems with imagination, and implement solutions that are both beautiful and sustainable. We work in harmony with existing natural conditions so that building and landscape work together.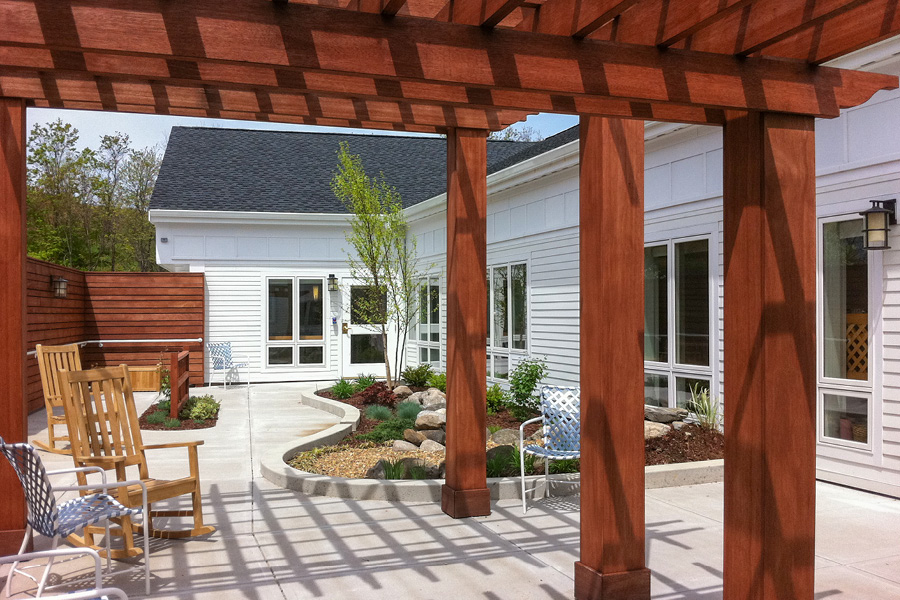 Memory Care Garden
Secure exterior healing environments
The Edgewood Memory Support Unit courtyards create secure outdoor areas directly connected to the units, where residents engage in active and passive activities. Designed as a continuous sequence from indoors to outdoors, a resident can securely and freely walk between inside and outside spaces. Garden fences are designed to appear like adjacent house walls, and a storage shed is integrated into the garden wall design so that they do not feel fenced in. The walking routes have sections of handrail for exercise therapy and security and are shaded in the summer by shade trees and pergola structures, that are placed to mitigate direct sun exposure and to create plant potting and seating areas. Plant beds with a mock riverbed are augmented with wind chimes and plantings to attract butterflies.
LEARN MORE ▶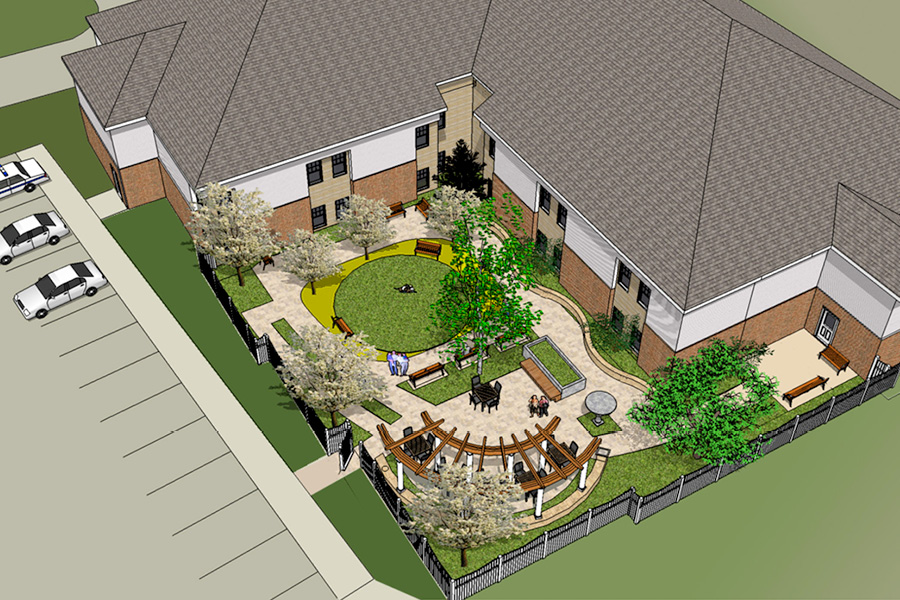 Secure Memory Care Courtyards
Adding functional and accessible outdoor places
The care area of the Christopher House's Alzheimer Unit was extended by converting a former lawn into an enclosed courtyard. To augment existing adult outdoor activities, a healing garden was created that features a walking loop around a large 'green'. The garden includes a generous sized gathering place for outdoor music and family events. All of the work was done without the use of heavy machinery, with little disturbance to the adjacent patient rooms. Patient room window privacy was maintained with careful placement of walls and plantings, and the design specified construction using readily available garden center materials that allowed for hand-labor installation by the staff.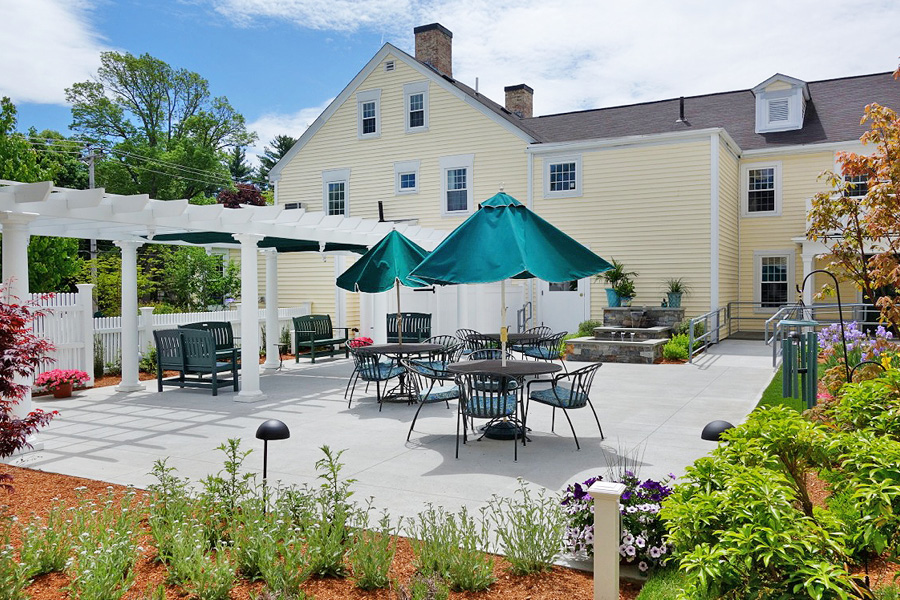 Accessible Outdoor Living Spaces
Engaging the senses in a new barrier free environment
The semi-secure courtyard at Pond Home is designed to be both restful, engaging, and a gathering area for family activities. A classic New England pergola with retractable shading provides a seating area where residents can stay outside in sun or seasonal showers. A newly designed multi-level water feature mimics a gurgling water pool and a flowing brook and creates a soothing natural sound as the water flows thru the levels. Visually rich seasonal colors from ornamental shrubs and perennially plants create a changing richness. Every resident is able to safely use the courtyard with the renovation of a back porch and addition of a new accessible walk.
LEARN MORE ▶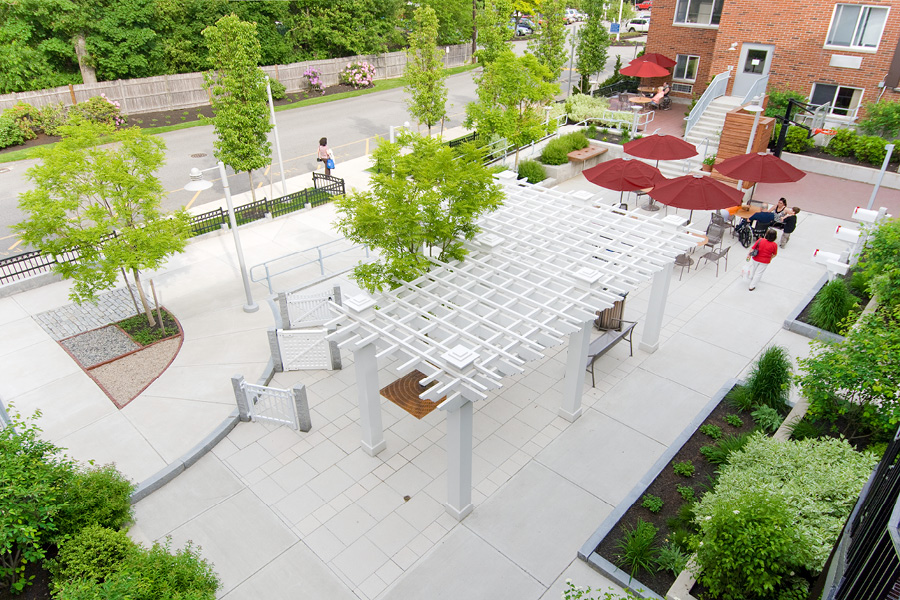 Occupational and Physical Therapy Landscapes
Functional outdoor therapy gardens
The adult day living courtyard at Braintree Rehabilitation Hospital was inspired from an idea to use the outdoors as an extension of the hospital's physical therapy program. A former overgrown and little-used side entrance yard was transformed into a new garden that integrates everyday outdoor activities into a patient's rehabilitation The garden now serves multiple functions including therapy, meditative, and family gathering, and the space successfully mixes patients, families and caregivers in an equitable outdoor environment. A variety of New England pavement types, sidewalks curbs, garden gates and latches, and ramps become activities patients can use to rehab and relearn everyday outdoor living: mailboxes, benches, curbs, curb ramps, outdoor handrails, plant potting, basketball, and miniature golf. Offering comfortable venues of outdoor seating and rehabilitation activities, the garden has become the centerpiece of the hospital.
LEARN MORE ▶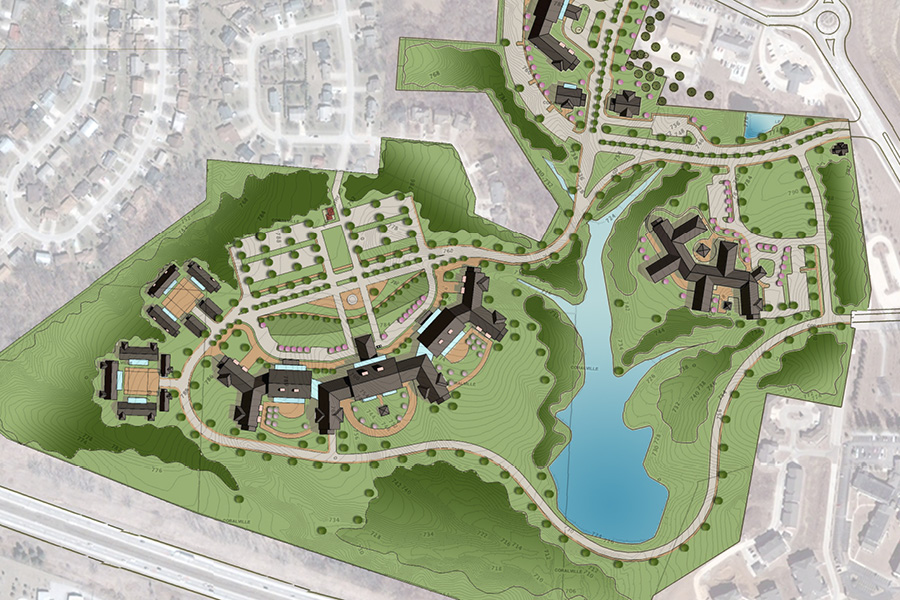 Site Planning a Senior Living Neighborhood
A continuum of care campus
The site plan for the 556 bed CCRC campus is organized by the existing lake's shoreline and adjacent neighborhoods, and carefully places buildings, roadways, walkways, services and open space in concert with the landscape to create the identity of a place. Winding roads with walking paths are designed to connect to each residential cluster and with the lakeshore. Buildings are located around a series of courtyard and plazas, each dedicated to the level of care needed by the building, and programed with related activities. The building configurations isolate large employee and overflow parking from the main residential site. Resident entrance driveways are designed to mimic country lanes, giving the site a less institutional look.
LEARN MORE ▶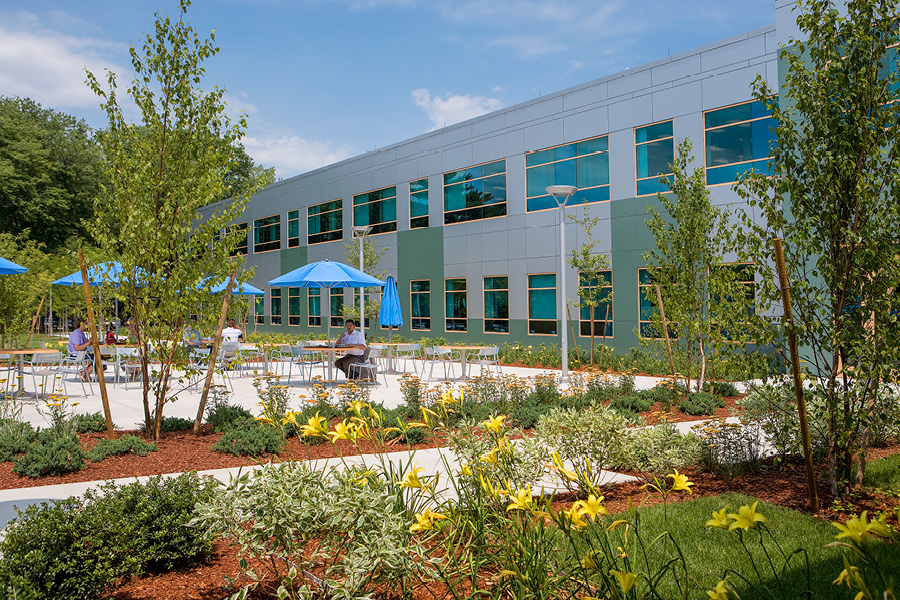 A Research and Design Corporate Campus
Creating a distinctive look while building outdoor amenities
An international life-sciences manufacturer enlarged their existing campus in the center of Historic Bedford, MA, and commissioned LWDA to master plan the site. The plan reflects their new growth and phased consolidation initiatives, and incorporates wetland areas and existing buildings. Landscape details continued the architecture's aesthetic in the final design, with cubic granite sitting blocks and accessory colors that highlight the buildings metallic skin. A required fire lane was designed to be both a generous sidewalk and part of a center campus walking loop. An entrance to the Bedford biking trail and dedicated bicycle racks facilitate use of alternate transportation.
LEARN MORE ▶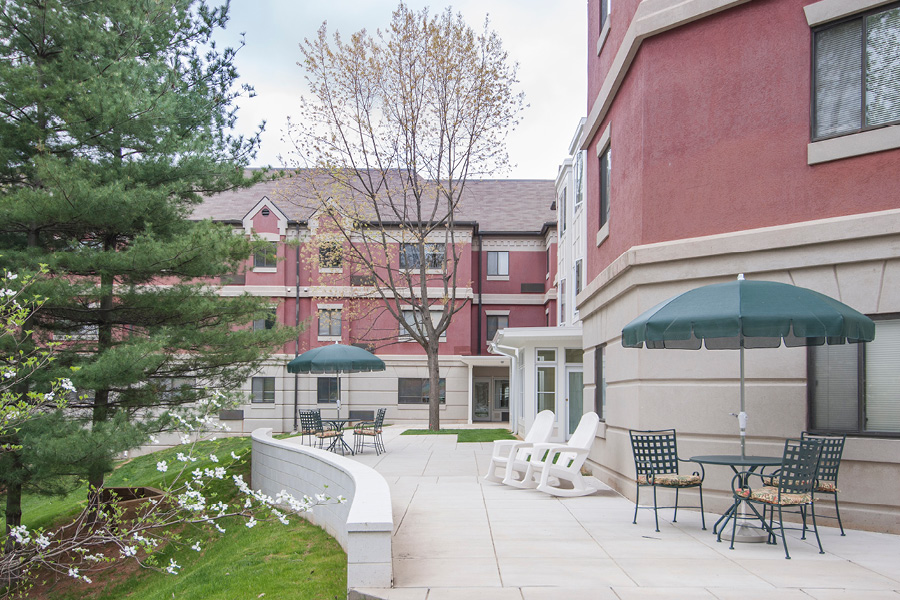 Making Useable Land
Reclaim underutilized outdoor space
A problem we frequently see are buildings dropped into their surroundings with little regard for user access to the outdoors, with building program primarily internalized. For a senior living residence in Maryland, we evaluated ways to engage the residents with the beautiful outdoors. A site plan was devised that extended and connected interior spaces to outdoor sitting terraces, activity areas, and walkways with walking loops. Outdoor courts were populated with recreational amenities such as a putting green and a shuffleboard court. By engaging interior common spaces with outdoor spaces, the facility feels larger and provides residents with more outdoor living choices.
LEARN MORE ▶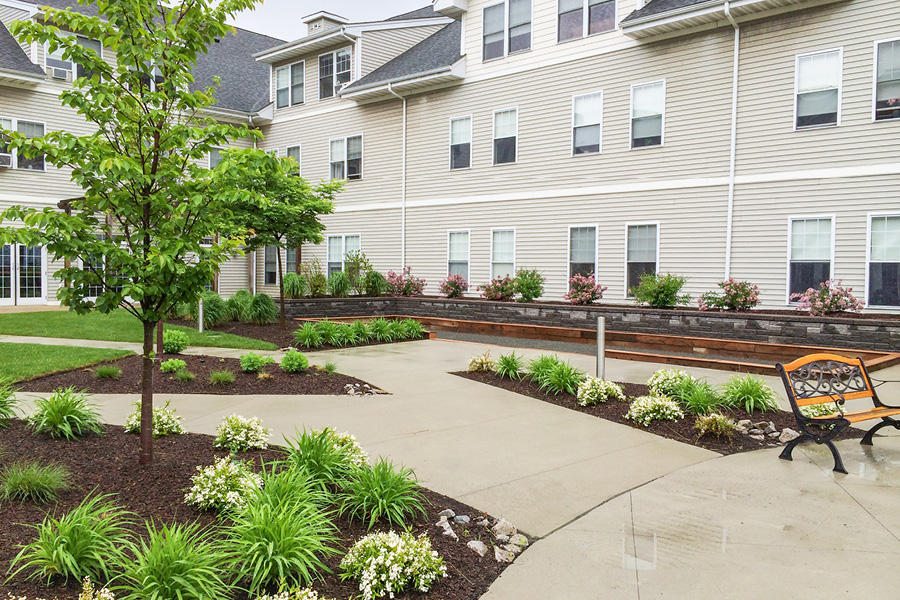 Remediation of a Brownfield Site
Golf, Bocci, Gathering, and Walking
A facility looked to reclaim an existing courtyard where hazardous waste had been buried on site during its initial construction. To remediate the waste, the site was scarified, and the earth capped at two feet. LWDA was commissioned to redesign the courtyard for Assisted and Memory Care residents living within the physical constraints of the minimum soil depths for planting. The design located areas for large cisterns to be buried to function as isolation tree wells. Planting beds were graded and raised above concrete capped earth, and a system of under bed drains alleviates any subsurface water ponding. The remediation site was transformed into programmed activity areas, with walking paths connecting a three-hole putting green, a stone-dust bocci court, and a summer pavilion for shaded seating.
LEARN MORE ▶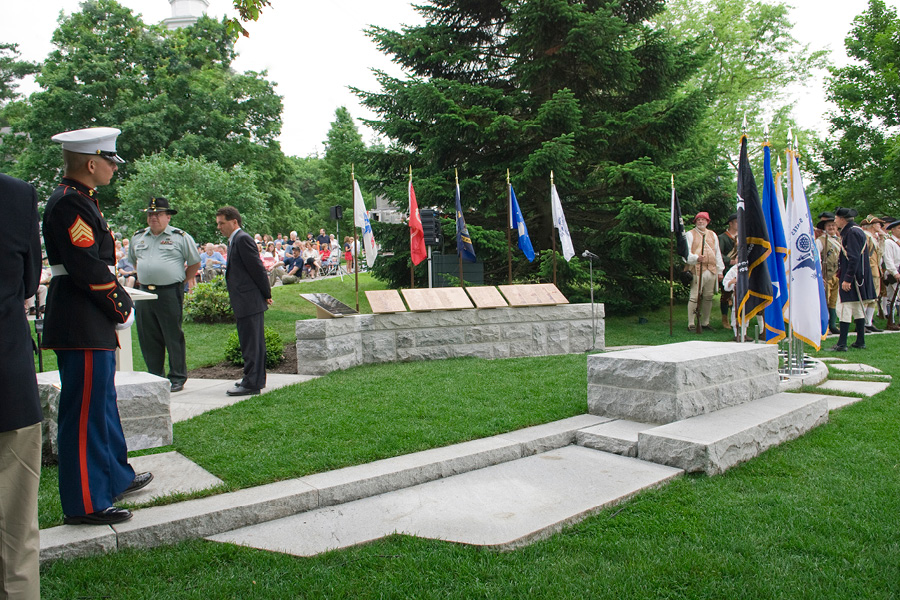 A Civic Memorial
Place of Honor & Remembrance
The Carlisle Honor Roll in the heart of historic Carlisle, MA, is a gathering place that honors those that have served in the armed forces from Carlisle. LWDA worked with the honor roll committee through weekly workshops for feasibility and site location on the historic town green. The design creates a protected enclosure on the edge of the town green, surrounded by granite both in paver and bench forms. Memorial bronze plaques displaying the names and service of veterans are pinned on a granite plinth, placed across from the stone benches at an accessible height. The honor role replaces a former honor roll sign and has become a place of reflection that hosts the activities on days of remembrance such as Patriots Day, the Fourth of July and Memorial Day.
LEARN MORE ▶